Home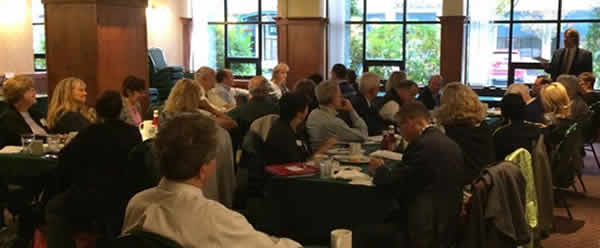 WELCOME to the North Shore Business Forum
Upcoming Programs
August 7, 2015
Goal Setting for Small Business Owners at the North Shore Business Forum's Meeting on August 7, 2015
Featured Speaker: Bob Hayes, Hayes Resource – "Goal Setting for Small Business Owners"
The North Shore Business Forum meets on Friday, August 7, 2015 at Acapulcos, 900 Cummings Center, Beverly, MA. Featured speaker Bob Hayes of Hayes Resource in Reading, MA, will lead an informative session on goal setting for small business owners. Registration begins at 7:15 AM, the meeting runs from 7:30 to 8:30. Admission is $10 at the door, and includes a buffet breakfast. Visit www.nsbforum.org for more information.
Goal setting allows you to take control of your life's direction and provides you with a benchmark for determining whether you are actually succeeding. The goal-setting process starts with careful consideration of what you want to achieve, and ends with a lot of hard work. In between, there are well-defined steps that transcend the specifics of each goal. Knowing these steps allows you to formulate goals you can accomplish.
About the Speaker: Bob Hayes is president of Reading, MA-based Hayes Resource, which offers consulting services to owners of small to medium-sized businesses and new ventures, teaching clients how to deliver superior customer service through core competencies that include interaction, innovation, and commitment. In addition to his work as a consultant, coach and speaker, he is also co-owner of Payroll Northeast, Inc., based in Danvers, MA. Bob previously owned and operated several successful small companies, including approved prime contractors to the U.S. government, and industrial sales and service distributorships. Bob began his career 30 years ago as an industrial engineer for Sanders Associates. For more information, contact Bob at bob@hayesresource.com or visit www.hayesresource.com.
The North Shore Business Forum
The North Shore Business Forum, Inc (NSBF) is a group of small business owners from Boston's North Shore who meet for informal lectures given by business leaders on a wide variety of topics. Members are also invited to give their 30-second "elevator pitch." All business owners are welcome: future, past, profitable, experienced or beginning. The NSBF meets the 1st and 3rd Friday of the month from 7:30 to 8:30 a.m. (registration starts at 7:15) at Acapulco's, 900 Cummings Center, Beverly, MA. The $10 meeting fee includes networking, a featured presentation, and breakfast buffet.
No pre-registration required, but your RSVP on our Meetup page is appreciated.
The "Meeting After the Meeting" Returns!
The North Shore Business Forum is re-instituting the concept of having members share their expertise with other members on an informal basis, in brief, no-cost sessions after its Friday morning networking meetings.
If you are an NSBF member with an interest in offering your own "Meeting After the Meeting" session in the future, please see NSBF President Brett Kirkpatrick at one of our meetings, or email him at events@nsbforum.org .
**  WEATHER-RELATED CANCELLATIONS  **
If the Beverly, MA public school system announces a "no school" snow day on one of our scheduled Fridays, then the NSBF meeting for that day will be cancelled. Check the NSBF Facebook page for updates as well. (See our "About NSBF" page for more information.)