Home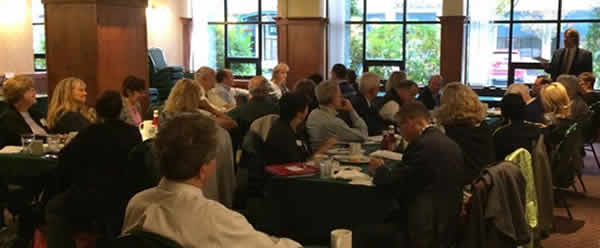 WELCOME to the North Shore Business Forum
Upcoming Programs 
Got Computer Problems? Get Answers from the Expert at the North Shore Business Forum Meeting on Friday, October 7 
Every time you use your office computer – even for something as simple as checking email or updating software, you are potentially at risk for exposure to viruses, malware, and scams that could disrupt daily operations or put you out of business. At the next meeting of the North Shore Business Forum on Friday, October 7, 2016 at Acapulcos, 900 Cummings Center, Beverly, MA. Mark Beckley, owner of Small Business Computing in Reading, MA, will offer a workshop that highlights the latest computer scams and rip-offs to beware of, the basics of computer maintenance and troubleshooting, and any questions YOU may have about your computer. Registration begins at 7:15 AM, and the meeting runs from 7:30 to 8:30. Admission is $10 at the door, and includes a buffet breakfast. Visit www.nsbforum.org for more information.
About the Speaker: Mark Beckley has run his own company, Small Business Computing, since 2004. Since then, Mark has been building custom desktops and servicing the technology needs of hundreds of small business and home office clients on the North Shore of Boston, Massachusetts. He has built nearly 100 custom computers a year for more than a decade, and every one of those machines built in the last ten years is still in service today. He previously spent more than 20 years working in information technology for firms like Creative Gourmets, Polaroid, BB&N's Software Products Division, and Ask Jeeves, and 10 years consulting part-time on nights and weekends. Mark has an MBA, a bachelor's degree in Computer Systems, and an associate's degree in Accounting from Bentley College (now Bentley University). For more information, contact Mark at mark@greenmachinecompany.com or visit http://www.greenmachinecompany.com .
The North Shore Business Forum, Inc. (NSBF) is a group of small business owners from Boston's North Shore who meet on the first and third Friday of each month for informal lectures given by business owners on a wide variety of topics. Members give a 30-second introduction of their business at each meeting. All business owners are welcome: future, past, profitable, experienced or beginning. Meetings are from 7:30 to 8:30 a.m. (registration starts at 7:15) at Acapulcos, 900 Cummings Center, Beverly, MA. The $10.00 admission fee includes a breakfast buffet. No pre-registration necessary.
Contact: Brett Kirkpatrick, NSBF President, 978-239-6335, Email: events@nsbforum.org.
The "Meeting After the Meeting" Returns!
The North Shore Business Forum is re-instituting the concept of having members share their expertise with other members on an informal basis, in brief, no-cost sessions after its Friday morning networking meetings.
If you are an NSBF member with an interest in offering your own "Meeting After the Meeting" session in the future, please see NSBF President Brett Kirkpatrick at one of our meetings, or email him at events@nsbforum.org .
**  WEATHER-RELATED CANCELLATIONS  **
If the Beverly, MA public school system announces a "no school" snow day on one of our scheduled Fridays, then the NSBF meeting for that day will be cancelled. Check the NSBF Facebook page for updates as well. (See our "About NSBF" page for more information.)