Home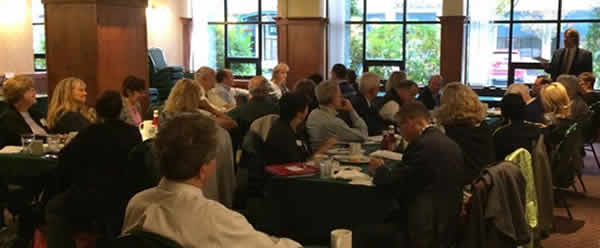 WELCOME to the North Shore Business Forum
Upcoming Programs
December 19, 2014
Beyond the Barriers: How Business Owners Can Identify and Overcome Self-Limiting Beliefs

Speaker Christine Sullivan, recently retired CEO of the Enterprise Center at Salem State University, will explore how many business owners have an internal set of beliefs that keep them from realizing their full potential and greatest success. However, once we acknowledge these self-created barriers, we can go beyond them. Christine will identify the key self-limiting barriers she's seen many business owners face, and lead a discussion on how such barriers can be successfully overcome.
Christine Sullivan is the recently retired CEO of the Enterprise Center at Salem State University, the North Shore's small business growth center serving thousands of small businesses each year (www.enterprisectr.org). Prior to leading the Enterprise Center, she was the founder and president of Hawthorne Associates, a marketing company serving corporate clients throughout the United States and overseas. Christine has also served as the Massachusetts Secretary of Consumer Affairs and the chairperson of the Communications Department at Endicott College.
The North Shore Business Forum
The North Shore Business Forum, Inc (NSBF) is a group of small business owners from Boston's North Shore who meet for informal lectures given by business leaders on a wide variety of topics. Members are also invited to give their 30-second "elevator pitch." All business owners are welcome: future, past, profitable, experienced or beginning. The NSBF meets the 1st and 3rd Friday of the month from 7:30 to 8:30 a.m. (registration starts at 7:15) at Acapulco's, 900 Cummings Center, Beverly, MA. The $10 meeting fee includes networking, a featured presentation, and breakfast buffet.
No pre-registration required, but your RSVP on our Meetup page is appreciated.
**  WEATHER-RELATED CANCELLATIONS  **
If the Beverly, MA public school system announces a "no school" snow day on one of our scheduled Fridays, then the NSBF meeting for that day will be cancelled. Check the NSBF Facebook page for updates as well. (See our "About NSBF" page for more information.)