Upcoming Programs
July 25, 2014
How to Give a TED Talk - Or any Short Talk that will Knock their Socks Off!
Dyan DeNapoli, author and speaker
Have you ever dreamed of giving a TED or TEDx talk? Have you wondered how you even get invited – and when you're invited, how to craft and prepare to give a TED-worthy talk? Even if you don't aspire to speak from the TED stage, you will benefit by following the TED guidelines when telling your business or personal story. If you do any public speaking at all, understanding the principles and techniques utilized by TED will help you dramatically improve your ability to craft and tell a compelling story, enhance your ability to engage and inspire your audience, and increase your level of comfort on the stage... and who doesn't want that?! A 20-year veteran of public speaking, Dyan deNapoli (The Penguin Lady) will share tips and insights from her experiences on the TEDx stage, and she will shed light on what you need to do to bring your talks to the next level.
Dyan deNapoli
(AKA The Penguin Lady), is a penguin expert, professional speaker, and author of the multi-award-winning book, The Great Penguin Rescue, which vividly chronicles her experiences working as a rehabilitation manager during the dramatic rescue of 40,000 penguins from an oil spill in South Africa. In June of 2011, Dyan was invited to share the story of this historic event at TEDxBoston. Her talk was later selected by the curators at TED to be featured on the home page of the main TED website, where it has now had over 340,000 views. Dyan gave her second TEDx talk this past January, and she will be giving two more TEDx talks this Fall. She has also written and narrated an animated lesson about penguin conservation for TED-Ed, the educational branch of TED. Dyan has been sharing her passion for penguins and their conservation in person, in print, on radio, and on TV throughout the world since 1995, including appearances on CNN, the BBC, and CBC Radio Canada. She has enjoyed serving as the penguin expert and guest lecturer on nature cruises to the Galapagos Islands and Antarctica, and she will be doing the same this winter on a trip to observe penguins in New Zealand with a luxury travel company. Dyan donates 20% of the precedes from her book and from every appearance to penguin rescue groups.
SAVE THE DATE!!!
Anniversary Celebration!
Friday, Sept. 26 at 7:15 a.m.

Help us celebrate 30 years since The Wadsworth Forum started; 21 years since it was renamed the North Shore Business Forum; and 10 years since we incorporated.

Stay tuned for a very special occasion!!!
The North Shore Business Forum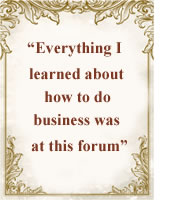 The North Shore Business Forum, Inc (NSBF) is a group of small business owners from Boston's North Shore who meet each Friday morning for informal lectures given by business owners on a wide variety of topics. Members also introduce and describe their businesses at each meeting. All business owners are welcome: future, past, profitable, experienced or beginning.
The NSBF meets each Friday morning from 7:30 to 8:30 a.m. (registration starts at 7:15) at the Danversport Yacht Club, Route 62 East, Danvers, Massachusetts. Each meeting only costs a $11.00 admission fee which includes a continental breakfast. Check the notice board by the main door for the meeting room. Directions to Danversport Yacht Club.
No Pre-Registration. Just show up! Sign-up takes place at each meeting.