Home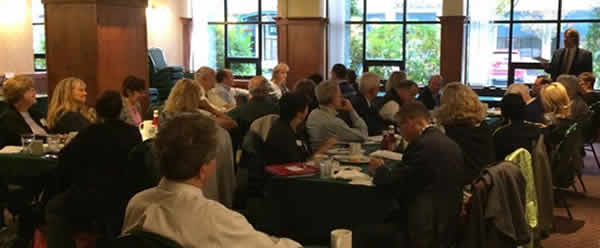 WELCOME to the North Shore Business Forum
Upcoming Programs 
December 4, 2015
Learn How to Give a TED Talk  at North Shore Business Forum's Meeting on Friday, December 4, 2015.
Featured Speaker: Dyan deNapoli, The Penguin Lady – "How to Give a TED Talk".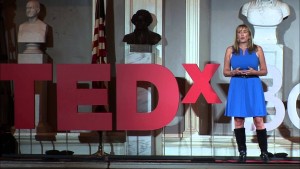 The North Shore Business Forum meets on Friday, December 4 at Acapulcos, 900 Cummings Center, Beverly, MA. Whether you've ever dreamed of giving a TED or TEDx talk, or simply do any public speaking, understanding the principles and techniques used by TED speakers will help you dramatically improve your ability to craft and tell a compelling story, engage and inspire your audience, and be more comfortable on stage. Featured speaker Dyan deNapoli (a.k.a. "The Penguin Lady") will share tips from her four experiences on the TEDx stage and 20 years of public speaking, and shed light on how to bring your talks to the next level. Registration begins at 7:15 AM, the meeting runs from 7:30 to 8:30. Admission is $10 at the door, and includes a buffet breakfast. Visit www.nsbforum.org for more information.
About the Speaker: Dyan deNapoli is a penguin expert, TED speaker, and the award-winning author of The Great Penguin Rescue, which is based on her experiences helping to manage the rescue of 40,000 penguins from an oil spill in South Africa. Library Journal named it "one of the best natural history books of 2010" and the New York Post called it "an eco-thriller with a happy ending." After a nine-year career as a Penguin Aquarist at Boston's New England Aquarium, deNapoli founded her educational company, The Penguin Lady, to teach children and adults about penguin biology, behavior, and conservation, and to raise funding to protect endangered penguins. DeNapoli has spoken at four TEDx conferences, and has written and narrated an educational video about penguin conservation for TED-Ed. Dyan has been the guest expert on numerous TV and radio shows in the US and abroad, including CNN, the BBC, and CBC Radio Canada. To learn more, visit www.thepenguinlady.com.
The North Shore Business Forum, Inc. (NSBF) is a group of small business owners from Boston's North Shore who meet on the first and third Friday of each month for informal lectures given by business owners on a wide variety of topics. Members give a 30-second introduction of their business at each meeting. All business owners are welcome: future, past, profitable, experienced or beginning. Meetings are from 7:30 to 8:30 a.m. (registration starts at 7:15) at Acapulcos, 900 Cummings Center, Beverly, MA. The $10.00 admission fee includes a breakfast buffet. No pre-registration necessary.
Contact: Brett Kirkpatrick, NSBF President, 978-239-6335, Email: events@nsbforum.org.
The "Meeting After the Meeting" Returns!
The North Shore Business Forum is re-instituting the concept of having members share their expertise with other members on an informal basis, in brief, no-cost sessions after its Friday morning networking meetings.
If you are an NSBF member with an interest in offering your own "Meeting After the Meeting" session in the future, please see NSBF President Brett Kirkpatrick at one of our meetings, or email him at events@nsbforum.org .
**  WEATHER-RELATED CANCELLATIONS  **
If the Beverly, MA public school system announces a "no school" snow day on one of our scheduled Fridays, then the NSBF meeting for that day will be cancelled. Check the NSBF Facebook page for updates as well. (See our "About NSBF" page for more information.)