Home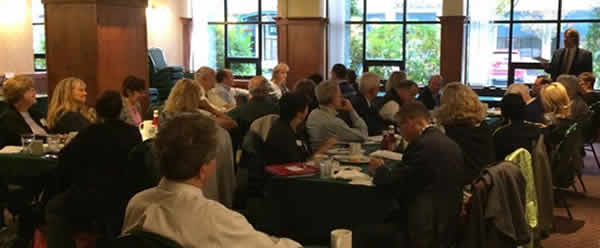 WELCOME to the North Shore Business Forum
Upcoming Programs 
Learn How to Increase Revenue Without Working More Hours at the North Shore Business Forum Meeting on Friday, December 2, 2016 
Distractions, the wrong technology, and a lack of training and processes can all have a cost that negatively affects your bottom line. At the North Shore Business Forum meeting on Friday, December 2, 2016 at Acapulcos, 900 Cummings Center, Beverly, MA, speaker Susan Shapiro, owner of Bralan Consulting, will explain how to "Increase Your Revenue Without Working More Hours." Through understanding which technological resources best suit your business needs, learning how to use these solutions, and implementing processes around your daily activities, you will find more productive hours are available to you each day — without you having to work longer hours. Registration begins at 7:15 AM, and the meeting runs from 7:30 to 8:30. Admission is $10 at the door, and includes a buffet breakfast. Visit www.nsbforum.org for more information.
About the Speaker: Susan Shapiro, owner of Bralan Consulting, has worked in and with companies of all sizes. Having gone from corporate America to a technology start-up, and from global project management to procurement to sales to human resources, Susan is quick to find the impasses that get in the way of proactive growth. Her passion is to help her clients remove the inefficiencies that result in money being left on the table. This includes finding the right technology resource(s) to support their objectives, and providing user training and implementing processes. For more information, contact Susan at susan@bralan-consulting.com or visit www.bralan-consulting.com.
The North Shore Business Forum, Inc. (NSBF) is a group of small business owners from Boston's North Shore who meet on the first and third Friday of each month for informal lectures given by business owners on a wide variety of topics. Members give a 30-second introduction of their business at each meeting. All business owners are welcome: future, past, profitable, experienced or beginning. Meetings are from 7:30 to 8:30 a.m. (registration starts at 7:15) at Acapulcos, 900 Cummings Center, Beverly, MA. The $10.00 admission fee includes a breakfast buffet. No pre-registration necessary.
Contact: Brett Kirkpatrick, NSBF President, 978-239-6335, Email: events@nsbforum.org.
The "Meeting After the Meeting" Returns!
The North Shore Business Forum is re-instituting the concept of having members share their expertise with other members on an informal basis, in brief, no-cost sessions after its Friday morning networking meetings.
If you are an NSBF member with an interest in offering your own "Meeting After the Meeting" session in the future, please see NSBF President Brett Kirkpatrick at one of our meetings, or email him at events@nsbforum.org .
**  WEATHER-RELATED CANCELLATIONS  **
If the Beverly, MA public school system announces a "no school" snow day on one of our scheduled Fridays, then the NSBF meeting for that day will be cancelled. Check the NSBF Facebook page for updates as well. (See our "About NSBF" page for more information.)