Home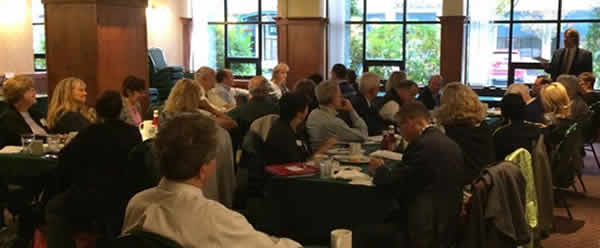 WELCOME to the North Shore Business Forum
Upcoming Programs 
June 3, 2016
Learn How to Use the "Compass Approach" for Better Business Results at the North Shore Business Forum's Meeting on Friday, June 3, 2016
When you're hiking in the woods, a compass can help you find your way. John King, president of Headway Strategies Consulting, offers the Compass Approach to help your business get better results. John's presentation, "The Compass Approach – Successfully Charting Your Business Via the Compass," covers the key aspects of running an organization, whether it's a for-profit or nonprofit small- to midsize organization or a sole practitioner. Using the four major points of the compass as a guide, John offers a roadmap to help you realize business success. Covering strategy, business structure, processes and systems, and customers and suppliers and your brand, John will explain how to use the Compass Approach to understand where you are and where you want to go to achieve your desired, improved business results. The North Shore Business Forum meets on Friday, June 3 at Acapulcos, 900 Cummings Center, Beverly, MA. Registration begins at 7:15 AM, the meeting runs from 7:30 to 8:30. Admission is $10 at the door, and includes a buffet breakfast. Visit www.nsbforum.org for more information.
About the Speaker: John King is President/Owner of Headway Strategies Consulting LLC, based in Topsfield, MA. His goal is to provide advisory assistance to help individuals and organizations convert chaos into structure; bring new concepts into reality; and develop the supporting goals to achieve improved results. He brings over forty years of experience working in diverse industries and various services organizations in management or consultative roles. John provides additional thought leadership for entrepreneurs and small and midsize businesses on his podcast series "Making Headway," and he hosts a local access cable show for the Greater Beverly Chamber of Commerce called "Voice of Business." His new book, The Compass Approach, illustrates his focus on developing approaches for businesses to achieve improved results. John has a bachelor's degree from the University of New Hampshire with a concentration in Organizational Behavior, and an MBA from Case Western Reserve with a concentration in Management Information Systems. For more information, contact John at jking@headway-strategies.com or visit www.headwaystrategiesconsulting.com.
The North Shore Business Forum, Inc. (NSBF) is a group of small business owners from Boston's North Shore who meet on the first and third Friday of each month for informal lectures given by business owners on a wide variety of topics. Members give a 30-second introduction of their business at each meeting. All business owners are welcome: future, past, profitable, experienced or beginning. Meetings are from 7:30 to 8:30 a.m. (registration starts at 7:15) at Acapulcos, 900 Cummings Center, Beverly, MA. The $10.00 admission fee includes a breakfast buffet. No pre-registration necessary.
Contact: Brett Kirkpatrick, NSBF President, 978-239-6335, Email: events@nsbforum.org.
The "Meeting After the Meeting" Returns!
The North Shore Business Forum is re-instituting the concept of having members share their expertise with other members on an informal basis, in brief, no-cost sessions after its Friday morning networking meetings.
If you are an NSBF member with an interest in offering your own "Meeting After the Meeting" session in the future, please see NSBF President Brett Kirkpatrick at one of our meetings, or email him at events@nsbforum.org .
**  WEATHER-RELATED CANCELLATIONS  **
If the Beverly, MA public school system announces a "no school" snow day on one of our scheduled Fridays, then the NSBF meeting for that day will be cancelled. Check the NSBF Facebook page for updates as well. (See our "About NSBF" page for more information.)