Home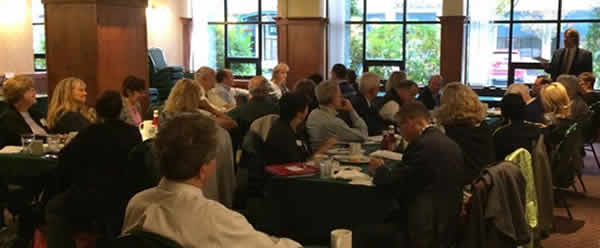 WELCOME to the North Shore Business Forum
Upcoming Programs
Reminder: No meeting on September 4 — Happy Labor Day!
September 18, 2015
Learn How to Wow Prospects in Under 30 Seconds at the North Shore Business Forum's Meeting on September 18, 2015
Featured Speaker: Tony Toledo, Storyteller – "Racing to 'Wow' in 27 Seconds: Your Elevator Speech on Fire!"
The North Shore Business Forum meets on Friday, September 18, 2015 at Acapulcos, 900 Cummings Center, Beverly, MA. Featured speaker and full-time storyteller Tony Toledo will lead an intensive workshop on how to set your "elevator speech" on fire. Registration begins at 7:15 AM, the meeting runs from 7:30 to 8:30. Admission is $10 at the door, and includes a buffet breakfast. Visit www.nsbforum.org for more information.
Every business owner has likely experienced that moment when a potential customer asks, "So, what do you do?" You want to supply a short, pithy answer that will leave them in awe, but what comes out of your mouth sounds more like a cross between a belching goose and a lonely cow speaking Russian. Avoid this tragedy by wearing your thinking cap to this NSBF meeting, where Tony will provide examples of great elevator speeches (and examples of stinkers). You'll take time to think of three ways you help your customers, work in pairs to "interview" others about your business stories, and then try out your brand-new 30-second introduction.
About the Speaker: Tony Toledo has been telling stories in order to eat since 1990, and in fact bought his massive one-tenth-of-an-acre estate with his mouth. The Beverly, MA-based storyteller sells the idea of stories to school principals, who sell the idea of folktales to their teachers, who in turn sell "The Little Rooster and the Turkish Sultan" to their students. Only when everybody is on board can magic happen. According to Tony, "We are all in sales no matter what business we are in. Knowing this is the key to success." For the past seven years, he hosted the weekly "Speak Up, the Spoken Word Open Mic" in Lynn, MA. Tony is also past president of LANES, the League for the Advancement of New England Storytelling, which recently honored him with the Brother Blue Storytelling Award. For more information, contact Tony at toledogoat@aol.com or visit TonyToledo.com.
The North Shore Business Forum, Inc (NSBF) is a group of small business owners from Boston's North Shore who meet for informal lectures given by business leaders on a wide variety of topics. Members are also invited to give their 30-second "elevator pitch." All business owners are welcome: future, past, profitable, experienced or beginning. The NSBF meets the 1st and 3rd Friday of the month from 7:30 to 8:30 a.m. (registration starts at 7:15) at Acapulco's, 900 Cummings Center, Beverly, MA. The $10 meeting fee includes networking, a featured presentation, and breakfast buffet.
No pre-registration required, but your RSVP on our Meetup page is appreciated.
The "Meeting After the Meeting" Returns!
The North Shore Business Forum is re-instituting the concept of having members share their expertise with other members on an informal basis, in brief, no-cost sessions after its Friday morning networking meetings.
If you are an NSBF member with an interest in offering your own "Meeting After the Meeting" session in the future, please see NSBF President Brett Kirkpatrick at one of our meetings, or email him at events@nsbforum.org .
**  WEATHER-RELATED CANCELLATIONS  **
If the Beverly, MA public school system announces a "no school" snow day on one of our scheduled Fridays, then the NSBF meeting for that day will be cancelled. Check the NSBF Facebook page for updates as well. (See our "About NSBF" page for more information.)