Upcoming Programs
Greetings, Forum Friends,

I hope your summer goes well!

The Forum Board has decided to take August off to plan for our next year. We'll be back in September 5th with gusto, so please check back for the list of September speakers.

AND, please mark your calendar for Friday, September 19 at the usual time (7:15 a.m.) for our anniversary celebration.

As part of our planning process, we might be contacting YOU to hear your answers to the questions: What are you getting out of the Forum? What are you not getting? What could we be doing differently? If your attendance has fallen off, why?

We would really appreciate knowing the answers to these questions. And please don't wait for us to contact you if you want to share your thoughts!

Enjoy your August, and keep in touch.

My best regards,

Brett Kirkpatrick
SAVE THE DATE!!!
Anniversary Celebration!
Friday, Sept. 19 at 7:15 a.m.

Help us celebrate 30 years since The Wadsworth Forum started; 21 years since it was renamed the North Shore Business Forum; and 10 years since we incorporated.

Stay tuned for a very special occasion!!!
The North Shore Business Forum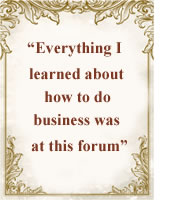 The North Shore Business Forum, Inc (NSBF) is a group of small business owners from Boston's North Shore who meet each Friday morning for informal lectures given by business owners on a wide variety of topics. Members also introduce and describe their businesses at each meeting. All business owners are welcome: future, past, profitable, experienced or beginning.
The NSBF meets each Friday morning from 7:30 to 8:30 a.m. (registration starts at 7:15) at the Danversport Yacht Club, Route 62 East, Danvers, Massachusetts. Each meeting only costs a $11.00 admission fee which includes a continental breakfast. Check the notice board by the main door for the meeting room. Directions to Danversport Yacht Club.
No Pre-Registration. Just show up! Sign-up takes place at each meeting.