Home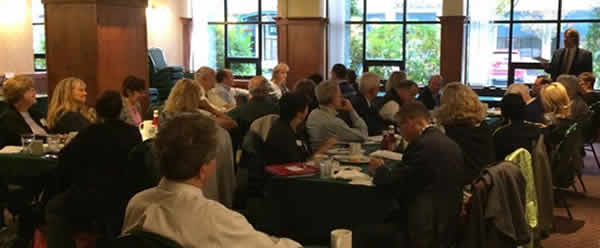 WELCOME to the North Shore Business Forum
Upcoming Programs 
 Learn How to Use Your Story to Attract Clients at the North Shore Business Forum Meeting on Friday, October 21 
Your personal story can be a powerful tool for attracting the clients you want for your business. At the North Shore Business Forum meeting on Friday, October 21, 2016 at Acapulcos, 900 Cummings Center, Beverly, MA, Gayle Nowak, founder and CEO of The Story Stylist, will offer a workshop on "How to Captivate Your Audience and Turn Them into Clients with Your Powerful Personal Story." Gayle shows purpose-driven entrepreneurs how to get known and get clients by helping them tell their powerful personal story. Through her signature "Tell to Sell Story System," she incorporates the skills she has honed in journalism, marketing, copywriting, public relations and entrepreneurship over the last twenty years. Registration begins at 7:15 AM, and the meeting runs from 7:30 to 8:30. Admission is $10 at the door, and includes a buffet breakfast. Visit www.nsbforum.org for more information.
About the Speaker: A former journalist and award-winning PR executive, Gayle Nowak has profiled everyday people, Olympians, and business leaders; she has placed clients on "The Oprah Show," and in The New York Times and other national media. Today, as founder and CEO of The Story Stylist, Gayle helps coaches, consultants and creative entrepreneurs make competitors irrelevant, attract their best clients, impact more people and make meaningful money. Gayle lives in Beverly, Massachusetts with her two young daughters, Hazel and Natasha, husband Greg, and their cat Veronica. In her free time, she likes to run up mountains, crawl in mud under barbed-wire and eat lots of dark chocolate. For more information, visit http://thestorystylist.com/ .
The North Shore Business Forum, Inc. (NSBF) is a group of small business owners from Boston's North Shore who meet on the first and third Friday of each month for informal lectures given by business owners on a wide variety of topics. Members give a 30-second introduction of their business at each meeting. All business owners are welcome: future, past, profitable, experienced or beginning. Meetings are from 7:30 to 8:30 a.m. (registration starts at 7:15) at Acapulcos, 900 Cummings Center, Beverly, MA. The $10.00 admission fee includes a breakfast buffet. No pre-registration necessary.
Contact: Brett Kirkpatrick, NSBF President, 978-239-6335, Email: events@nsbforum.org.
The "Meeting After the Meeting" Returns!
The North Shore Business Forum is re-instituting the concept of having members share their expertise with other members on an informal basis, in brief, no-cost sessions after its Friday morning networking meetings.
If you are an NSBF member with an interest in offering your own "Meeting After the Meeting" session in the future, please see NSBF President Brett Kirkpatrick at one of our meetings, or email him at events@nsbforum.org .
**  WEATHER-RELATED CANCELLATIONS  **
If the Beverly, MA public school system announces a "no school" snow day on one of our scheduled Fridays, then the NSBF meeting for that day will be cancelled. Check the NSBF Facebook page for updates as well. (See our "About NSBF" page for more information.)