Home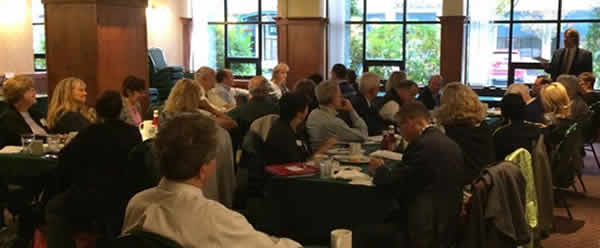 WELCOME to the North Shore Business Forum
Upcoming Programs
June 5, 2015
Senator Joan Lovely to Provide Legislative Update to Small Business Owners at the North Shore Business Forum's Meeting on June 5, 2015
Featured Speaker: Senator Joan Lovely — "Legislative Update for Small Business Owners"
The North Shore Business Forum meets on Friday, June 5, 2015 at Acapulcos, 900 Cummings Center, Beverly, MA. Registration begins at 7:15 AM, the meeting runs from 7:30 to 8:30. Admission is $10 at the door, and includes a buffet breakfast. NSBF is honored to welcome Senator Joan Lovely (2nd Essex District, MA), who will provide a legislative update for small business owners as well as updates on key regional events. Visit www.nsbforum.org for more information.
About the Speaker: Senator Joan B. Lovely is in her second term as state Senator for the Second Essex District, comprised of Beverly, Danvers, Peabody, Salem and Topsfield. Senator Lovely has served in the Massachusetts Senate since January 2013. In her first term, Senator Lovely served as the Senate Chair of the Joint Committee on Mental Health and Substance Abuse, the Senate Vice-Chair of the Joint Committee on Veterans and Federal Affairs, and served on five additional joint committees. She was also appointed to the Senate Special Committee to Study the Application of Section 35 and Drug Addiction Treatment Options and the Massachusetts Special Legislative Commission on Postpartum Depression.
Previously, Senator Lovely served on the Salem City Council for over 15 years, twice serving as the council president. She also chaired three committees and acted as Council liaison to the Board of Directors for the Salem Council on Aging and to the city's Commission on Disabilities. Senator Lovely is a graduate of the Massachusetts School of Law, Salem State University, and Beverly High School. For more information, contact Senator Joan B. Lovely at Joan.Lovely@masenate.gov or visit http://www.senatorjoanlovely.com/?page_id=16.
The North Shore Business Forum
The North Shore Business Forum, Inc (NSBF) is a group of small business owners from Boston's North Shore who meet for informal lectures given by business leaders on a wide variety of topics. Members are also invited to give their 30-second "elevator pitch." All business owners are welcome: future, past, profitable, experienced or beginning. The NSBF meets the 1st and 3rd Friday of the month from 7:30 to 8:30 a.m. (registration starts at 7:15) at Acapulco's, 900 Cummings Center, Beverly, MA. The $10 meeting fee includes networking, a featured presentation, and breakfast buffet.
No pre-registration required, but your RSVP on our Meetup page is appreciated.
The "Meeting After the Meeting" Returns!
The North Shore Business Forum is re-instituting the concept of having members share their expertise with other members on an informal basis, in brief, no-cost sessions after its Friday morning networking meetings.
If you are an NSBF member with an interest in offering your own "Meeting After the Meeting" session in the future, please see NSBF President Brett Kirkpatrick at one of our meetings, or email him at events@nsbforum.org .
**  WEATHER-RELATED CANCELLATIONS  **
If the Beverly, MA public school system announces a "no school" snow day on one of our scheduled Fridays, then the NSBF meeting for that day will be cancelled. Check the NSBF Facebook page for updates as well. (See our "About NSBF" page for more information.)