Home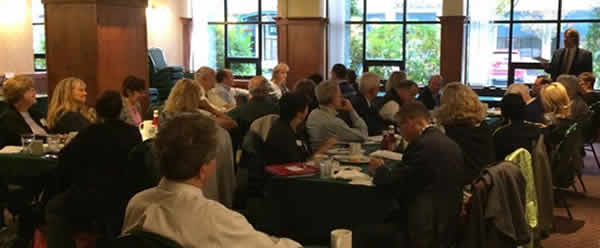 WELCOME to the North Shore Business Forum
Upcoming Programs
February 6, 2015
Learn How to Break the Rules and Close More Sales at the North Shore Business Forum's Meeting
The North Shore Business Forum meets on Friday, February 6, 2015 at Acapulcos, 900 Cummings Center, Beverly, MA. Registration begins at 7:15 AM, the meeting runs from 7:30 to 8:30. Admission is $10 at the door, and includes a buffet breakfast. Speaker Dave Johnson of Sandler Training will offer tips on how to close more sales and discover a fresh perspective on the barriers holding you back from taking your business to the next level.
Are you driven by over-achievement, energized by growth, and committed to making it happen, yet sales still do not increase at the rate you want? Dave's presentation will explore the real-world challenges faced by professionals looking to grow their business, increase deal closure probability, and develop meaningful business relationships while avoiding traditional sales "tricks" that create pressure and distrust. The tips from this presentation will help you avoid feeling:
Frustrated that you are working hard, excellent at what you do, but can't seem to generate enough new opportunities.
Discouraged by the unintentional waste of time and resources educating prospects who appear ready to buy from you but never do, saying they'll "think it over."
Feeling like you are being minimalized by your marketplace, resulting in price pressure and discounts for your product or service.
Unsure why you may lose an opportunity to a competitor when you knew you were the best fit for the client.
About the Speaker: Dave Johnson is an award-winning trainer, speaker and coach for Sandler Training, a world leader in innovative sales, customer service and sales management training. As a client of Sandler Training for over six years, Dave excelled as both a front-line sales person and in sales management, recruiting, training and managing a team of over 40 sales people. Dave's true passion is working with sales professionals at any stage of their career to help them achieve both their personal and business goals. Based at the Cummings Center in Beverly, MA, Dave believes there is always room for professional growth and that "sales" is a skill to be developed for more honest and effective human communication. Contact Dave at djohnson@sandler.com or visit http://www.sixsignma.sandler.com.
The North Shore Business Forum
The North Shore Business Forum, Inc (NSBF) is a group of small business owners from Boston's North Shore who meet for informal lectures given by business leaders on a wide variety of topics. Members are also invited to give their 30-second "elevator pitch." All business owners are welcome: future, past, profitable, experienced or beginning. The NSBF meets the 1st and 3rd Friday of the month from 7:30 to 8:30 a.m. (registration starts at 7:15) at Acapulco's, 900 Cummings Center, Beverly, MA. The $10 meeting fee includes networking, a featured presentation, and breakfast buffet.
No pre-registration required, but your RSVP on our Meetup page is appreciated.
The "Meeting After the Meeting" Returns!
The North Shore Business Forum is re-instituting the concept of having members share their expertise with other members on an informal basis, in brief, no-cost sessions after its Friday morning networking meetings.
Immediately after the February 6 meeting, John King of Headway Strategies Consulting will conduct a 30-minute discussion about business analysis and goal-setting for 2015.  He will provide an overview of a specific analysis technique and a goal-setting approach. If you would like to participate in John's session, please email him directly at jking@headway-strategies.com.
If you are an NSBF member with an interest in offering your own "Meeting After the Meeting" session in the future, please see NSBF President Brett Kirkpatrick at one of our meetings, or email him at events@nsbforum.org .
**  WEATHER-RELATED CANCELLATIONS  **
If the Beverly, MA public school system announces a "no school" snow day on one of our scheduled Fridays, then the NSBF meeting for that day will be cancelled. Check the NSBF Facebook page for updates as well. (See our "About NSBF" page for more information.)