Upcoming Programs
The first meeting of the new and improved NSBF will be September 19, 2014 with special guest Beverly's Mayor Michael Cahill
Our new meeting location will be
Acapulco's
at the Cummings Center in Beverly, 7:15 to 8:30 a.m.
Anniversary Celebration!
Friday, Sept. 19 at 7:15 a.m
Help us celebrate 30 years of connecting businesses on the North Shore at a breakfast meeting at our new venue (Acapulcos, 900 Cummings Center, Beverly, MA). The Forum began in 1984 as The Wadsworth Forum, was renamed the North Shore Business Forum 21 years ago, and incorporated in 2004. The common threads all these years? Connecting people, fostering relationships, and growing business.
Please join us for this very special occasion!
$10 admission includes networking and breakfast buffet. Hope to see everyone there for NSBF's 30th anniversary celebration!
The NSBF Annual Meeting will follow the regular meeting at 8:40am.
We invite any nominations for Board of Directors and Officers; send to nominations to
events@nsbforum.org.
The North Shore Business Forum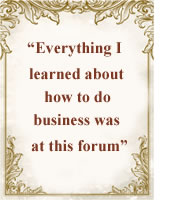 The North Shore Business Forum, Inc (NSBF) is a group of small business owners from Boston's North Shore who meet each Friday morning for informal lectures given by business owners on a wide variety of topics. Members also introduce and describe their businesses at each meeting. All business owners are welcome: future, past, profitable, experienced or beginning.
The NSBF meets the 1st and 3rd Friday of the month from 7:30 to 8:30 a.m. (registration starts at 7:15) at Acapulco's, 900 Cummings Center, Beverly, MA. Each meeting only costs a $10.00 admission fee which includes a breakfast buffet.
No Pre-Registration. Just show up! Sign-up takes place at each meeting.