Home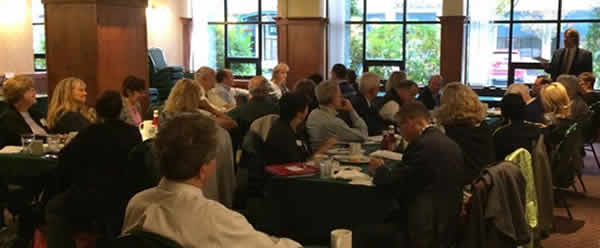 WELCOME to the North Shore Business Forum
Upcoming Programs
November 7, 2014
Tax-Saving Tips: How Much of Your Income Do You Want to Share with Your "Uncle Sam"?
Lark Bolduc, CPA, and Herb Harris, EA, will offer year-end tax saving tips for small business owners and individuals in a presentation on "Tax Saving Tips: How Much of Your Income Do You Want to Share with Your 'Uncle Sam'?" Attendees will learn practical ways to reduce the year-end tax burden on their 2014 income tax return. If you have specific questions or areas of interest you'd like them to consider including in their presentation, please contact Lark and Herb through their websites (links above).
Lark Bolduc is a Certified Public Accountant and the proprietor of Danvers, MA-based Bolduc CPA, which specializes in accounting and tax preparation services, consulting and training for small businesses, and individual tax preparation.  "Questions are always welcome" describes the company's atmosphere and how Lark builds close relationships with clients. She received a Bachelor of Science in Accounting from Merrimack College, and a Master of Science in Taxation from Bentley College. She is a Notary Public and serves on the board of directors of North Shore Women in Business and as treasurer of the North Shore Business Forum. For more information, visit http://www.bolduccpa.com/.
After a 17-year career as a commercial banker, Herb Harris opened his North Shore office of Padgett Business Services in 1990 to advise and consult with small business owners on tax issues every month. His clients always have peace of mind and no surprises when their income tax returns are prepared. Herb has been preparing corporate, partnership and individual tax returns for nearly 40 years. He is an Enrolled Agent, a designation awarded by the IRS in recognition of his expertise in tax issues. He is a past president of several groups, including the North Shore Business Forum (of which he is also a founder), the Peabody Chamber of Commerce, Peabody Rotary and the South Essex Unit of the American Cancer Society. For more information, visit www.smallbizpros.com/h_harris.
The North Shore Business Forum
The North Shore Business Forum, Inc (NSBF) is a group of small business owners from Boston's North Shore who meet for informal lectures given by business leaders on a wide variety of topics. Members are also invited to give their 30-second "elevator pitch." All business owners are welcome: future, past, profitable, experienced or beginning. The NSBF meets the 1st and 3rd Friday of the month from 7:30 to 8:30 a.m. (registration starts at 7:15) at Acapulco's, 900 Cummings Center, Beverly, MA. The $10 meeting fee includes networking, a featured presentation, and breakfast buffet.
No pre-registration required, but your RSVP on our Meetup page is appreciated.