Upcoming Programs
May 24
No Meeting – Memorial Day
May 31
Table Networking - Let's have an App Party. Share your favorite phone apps. Discover what's new, useful, and fun!
The old methods of outbound, push marketing (purchasing print ads, buying email lists) are outdated. Inbound marketing focuses on creating quality content (blogs, e-books, white papers, videos) that pull potential customers and clients toward your company and your product. It's marketing to people where they are rather than where you want them to be. Inbound marketing is relevant, helpful and valuable to your customers and prospects – not disruptive, spammy and invasive.
In this presentation, Julia will cover the basics of inbound marketing, describe why it is important for your business, discuss ways to get started and cover the keys to a successful inbound marketing strategy.
Julia Campbell
is President/CEO of J Campbell Social Marketing, a boutique digital marketing and PR agency based in Beverly, MA.
Julia received her degree in Journalism & Communications from Boston University and earned a Master in Public Administration from Old Dominion University as well as a Certificate in Nonprofit Management from Tidewater Community College.
A Beverly native, a Returned Peace Corps Volunteer, a mom of 1 and a social media marketing enthusiast, Julia helps nonprofits and small businesses maximize their impact and accomplish their missions by effectively harnessing the power and potential of online marketing and social media tools.
Julia's clients include local businesses, nonprofit organizations, and universities, and she also offers one-on-one coaching sessions, group seminars and college courses. Her blog and website are at www.jcsocialmarketing.com
Julia has been featured on Social Media Today, Business 2 Community, Forbes and The Glass Heel.
The North Shore Business Forum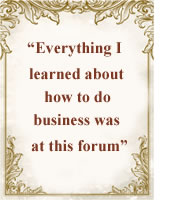 The North Shore Business Forum, Inc (NSBF) is a group of small business owners from Boston's North Shore who meet each Friday morning for informal lectures given by business owners on a wide variety of topics. Members also introduce and describe their businesses at each meeting. All business owners are welcome: future, past, profitable, experienced or beginning.
The NSBF meets each Friday morning from 7:30 to 8:30 a.m. (registration starts at 7:15) at the Danversport Yacht Club, Route 62 East, Danvers, Massachusetts. Each meeting only costs a $11.00 admission fee which includes a continental breakfast. Check the notice board by the main door for the meeting room. Directions to Danversport Yacht Club.
No Pre-Registration. Just show up! Sign-up takes place at each meeting.