Upcoming Programs
David Thomson
draws upon more than 20 years of marketing, sales, public relations, journalism and entrepreneurship experience to steer the growth of Thomson Communications.
Before founding Thomson Communications, David spent ten years at Verizon Wireless (and its legacy companies). While at Verizon Wireless, he held positions in sales, marketing and senior regional management, including Director of Marketing for New England—with responsibility for all marketing, public relations, advertising, promotion, and events.
Whether providing strategic counsel to executives and clients, pitching media, negotiating sponsorships, planning special events, developing marketing campaigns, or implementing program tactics, Thomson invests an array of talents to create award-winning campaigns that meet and exceed client expectations. Thomson and his team work to develop unique programs to differentiate clients, regardless of industry. In addition, he has realized success at negotiating large-scale sponsorships, as well as supportive agreements to assist non-profit organizations that often do not have necessary capital to orchestrate large budget activities.
Thomson speaks regularly to groups on a range of industry-related topics such as public relations, entrepreneurship, business strategy, marketing, and communications. He also serves as a professor at Salem State University, teaching a course in Media Relations to students in the Communications Department majoring in Public Relations.
Thomson serves on boards and committees for the following organizations as one way to give back:
- Alzheimer's Association, Massachusetts/New Hampshire Chapter – Leadership Council Member, Communications Task Force Member, Served on the Association's annual 'Make The Link' golf tournament committee for fifteen years, the last ten as Chair. In 2004 Thomson received the prestigious Myer Saxe Award from the Alzheimer's Association in recognition of his outstanding leadership on behalf of people with Alzheimer's disease and their families.
- Danvers Community YMCA – Board Member
- Danvers Youth Soccer – Board Member
- Employers Against Domestic Violence – Board Member
- Town of Danvers – School Committee Member
Thomson is also a member of the following business organizations:
Greater Beverly Chamber of Commerce, North Shore Chamber of Commerce, Public Relations Society of America (PRSA), Publicity Club of New England, serving as a judge for the annual Bell Ringer Awards since 2004, Small Business Association of New England (SBANE).
Thomson earned a Bachelor of Arts degree in business management from Salem State College; a Master's degree in public relations from Emerson College; and has received a certificate in Meeting Management from Bentley College.
In this interactive workshop Forum attendees will highlight both accomplishments and opportunities in 6 areas of their lives. Then we will drill down into the one opportunity that means the most, brainstorm strategies to address that opportunity, devise actions to implement that strategy and finally walk away with the One Action that will move you forward to realizing the Most Important Opportunity.
Dr. Sobus
has graduate degrees in business, theology and chemistry accompanied by 31 years of practical experience in marketing, international sales, product development and executive management.
In 2008 he founded Next Level Business Development, a business coaching firm located on the North Shore. Mike works with business owners who have things going on in their business that cause them worry, frustration and grief; things like flat sales, declining profits, no cash for investment, no time for themselves and their families, people problems and no fun. The Business Builder Coaching Program helps them to understand what's happening and provides them with Strategies, Systems and Support they need to turbo charge the growth that they want.
With over three decades of engineering rapid sustained growth for my own businesses and helping others to achieve dramatic breakthroughs in theirs, Mike understands the challenges that business owners face today and has the strategies, tools and systems that thousands of small businesses have used to build million dollar businesses worldwide.
From the start Mike partnered with the Professional Business Coaches Alliance where he remains an active member sharing cutting-edge strategies and proprietary business strategies with more than 100 business coaches throughout North America.
Happily married and he shares the now empty nest with Tank, the cocker spaniel, Moo, the short-hair cat, and any number of fish. Voracious reader of titles on business leadership and management, investing, politics, economics, philosophy, and ethics. Avid sports fan gave up the Flyers and Philles for Boston Bruins hockey and of course Red Sox baseball. Enjoys exercise, gardening and fine dining and guilt pleasures like Tanquary Martinis!
The North Shore Business Forum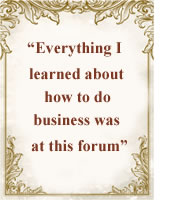 The North Shore Business Forum, Inc (NSBF) is a group of small business owners from Boston's North Shore who meet each Friday morning for informal lectures given by business owners on a wide variety of topics. Members also introduce and describe their businesses at each meeting. All business owners are welcome: future, past, profitable, experienced or beginning.
The NSBF meets each Friday morning from 7:30 to 8:30 a.m. (registration starts at 7:15) at the Danversport Yacht Club, Route 62 East, Danvers, Massachusetts. Each meeting only costs a $11.00 admission fee which includes a continental breakfast. Check the notice board by the main door for the meeting room. Directions to Danversport Yacht Club.
No Pre-Registration. Just show up! Sign-up takes place at each meeting.