Upcoming Programs
April 18, 2014
Good Friday - No Meeting
Amy Ruiter is a graduate of Montserrat College of Art. She worked for ten years in arts vocational rehabilitation for adults with various disabilities. In June 2013 she returned to Montserrat College of Art as the Interim Internship Coordinator. She is currently the Assistant Director of Career Services at Montserrat College of Art.
With so much change, uncertainty and things-to-do, it's challenging to feel at peace. Most just resign to having stress be a part of their daily lives. Fortunately, it doesn't have to be this way. Join us to learn 3 simple ways to be at peace, centered and relaxed regardless of the situation.
Nat Couropmitree
(pronounced ca-ROPE-mi-tree) supports highly motivated entrepreneurs to feel like they can finally relax yet also be successful and fulfilled. He is the creator of the
'PeaceWithinChaos.com'
program and has presented dozens of workshops in the Boston area and online. Visit his site:
EmbraceYourWealth.com
The North Shore Business Forum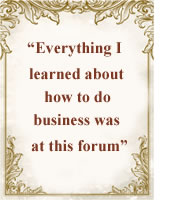 The North Shore Business Forum, Inc (NSBF) is a group of small business owners from Boston's North Shore who meet each Friday morning for informal lectures given by business owners on a wide variety of topics. Members also introduce and describe their businesses at each meeting. All business owners are welcome: future, past, profitable, experienced or beginning.
The NSBF meets each Friday morning from 7:30 to 8:30 a.m. (registration starts at 7:15) at the Danversport Yacht Club, Route 62 East, Danvers, Massachusetts. Each meeting only costs a $11.00 admission fee which includes a continental breakfast. Check the notice board by the main door for the meeting room. Directions to Danversport Yacht Club.
No Pre-Registration. Just show up! Sign-up takes place at each meeting.