Home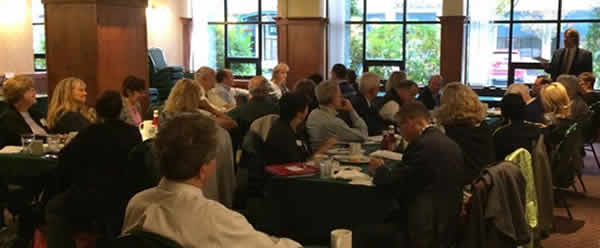 WELCOME to the North Shore Business Forum
Upcoming Programs 
July 15, 2016
Change Your Words, Transform Your Life! at North Shore Business Forum's Friday, July 15, 2016 Meeting
The North Shore Business Forum meets on Friday, July 15, 2016 at Acapulcos, 900 Cummings Center, Beverly, MA. Registration begins at 7:15 AM, and the meeting runs from 7:30 to 8:30. Admission is $10 at the door, and includes a buffet breakfast. Visit www.nsbforum.org for more information. New York Times best-selling author Betty Eadie once said, "In our thoughts and words, we create our own weaknesses and our own strengths." Consciously choosing to eliminate just two common phrases will shift you into a more powerful experience of your life. On July 15, life coach and author Dina Crawford will lead an interactive workshop where you will make a simple change in your patterns that will give you more energy and potential for your business!
About the Speaker: As a passionate advocate for holistic wellbeing, Dina Crawford, MHA, has presented workshops and seminars throughout New England on such topics as stress management, complementary and alternative medicine, spirituality and health, and the power of personal peace.  Some of the former occupations that have brought Dina to where she is today are:  life coach, laboratory supervisor, comedian, author, and professor of public speaking. Dina currently has a holistic healing practice and is the owner of Live Organic Northeast, an organic products business.  In her spare time she enjoys photography, the beach, playwriting, acting, and spending time with her grandson, Tommy. For more information, contact Dina at liveorganicnortheast@gmail.com or visit essanteorganics.com/liveorganicnortheast.
The North Shore Business Forum, Inc. (NSBF) is a group of small business owners from Boston's North Shore who meet on the first and third Friday of each month for informal lectures given by business owners on a wide variety of topics. Members give a 30-second introduction of their business at each meeting. All business owners are welcome: future, past, profitable, experienced or beginning. Meetings are from 7:30 to 8:30 a.m. (registration starts at 7:15) at Acapulcos, 900 Cummings Center, Beverly, MA. The $10.00 admission fee includes a breakfast buffet. No pre-registration necessary.
Contact: Brett Kirkpatrick, NSBF President, 978-239-6335, Email: events@nsbforum.org.
The "Meeting After the Meeting" Returns!
The North Shore Business Forum is re-instituting the concept of having members share their expertise with other members on an informal basis, in brief, no-cost sessions after its Friday morning networking meetings.
If you are an NSBF member with an interest in offering your own "Meeting After the Meeting" session in the future, please see NSBF President Brett Kirkpatrick at one of our meetings, or email him at events@nsbforum.org .
**  WEATHER-RELATED CANCELLATIONS  **
If the Beverly, MA public school system announces a "no school" snow day on one of our scheduled Fridays, then the NSBF meeting for that day will be cancelled. Check the NSBF Facebook page for updates as well. (See our "About NSBF" page for more information.)