Upcoming Programs
December 13
Year-end Tax Tips
David Bateman, CPA and Julia Tiernan, CPA
David Bateman
is a CPA with a public accounting/tax practice in Marblehead, MA. He services small business and families with bookkeeping, accounting and tax needs. He has worked as an audit manager and tax accountant for several CPA firms in New York and worked as controller of companies in the tourism and apparel industries. He started his own practice in January of 2002 and has been a member of the North Shore Business Forum since May of 2003.
Julia Tiernan
is a CPA with a practice in Peabody. Before starting her full-time accounting practice in 1997, she was VP of Finance and Accounting for CorpTech and a professor of accounting, tax and finance at Merrimack College.
December 20
No Meeting - Christmas
December 27
No Meeting - New Years
January 3, 2014
Kicking Off the New Year!!
To celebrate the New Year we are having our special Kick Off Breakfast.
All members past and present are welcome!

Reservations must be received NO LATER than December 27th. No Walk-ins!

Download Reservation Form Here...
The North Shore Business Forum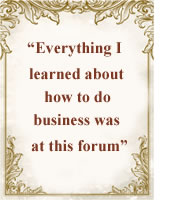 The North Shore Business Forum, Inc (NSBF) is a group of small business owners from Boston's North Shore who meet each Friday morning for informal lectures given by business owners on a wide variety of topics. Members also introduce and describe their businesses at each meeting. All business owners are welcome: future, past, profitable, experienced or beginning.
The NSBF meets each Friday morning from 7:30 to 8:30 a.m. (registration starts at 7:15) at the Danversport Yacht Club, Route 62 East, Danvers, Massachusetts. Each meeting only costs a $11.00 admission fee which includes a continental breakfast. Check the notice board by the main door for the meeting room. Directions to Danversport Yacht Club.
No Pre-Registration. Just show up! Sign-up takes place at each meeting.