Home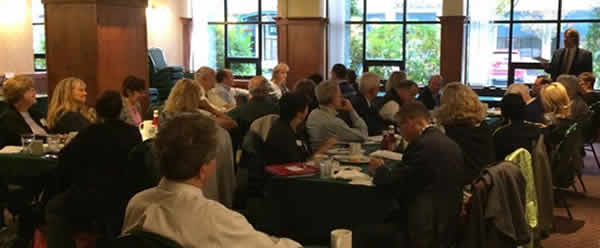 WELCOME to the North Shore Business Forum
Upcoming Programs
December 5, 2014
How to Network More Effectively
Diane Darling, founder of Boston, MA-based Effective Networking Inc., will share with NSBF members and guests essential strategies for effective relationship building (also known as business networking). Combining strategic planning, interactive training and an exploration of people's natural fears, Diane demystifies the relationship-building process and offers use-now techniques and tips. She is the author of The Networking Survival Guide and Networking for Career Success (both from McGraw-Hill).
Curiosity is the foundation of Diane Darling's entrepreneurial endeavors. Where there's a problem, she'll find a solution. Following a business failure, someone commented on her ability to get appointments, make connections and get things done. After Diane was asked to offer a workshop on networking, she launched her business, Effective Networking Inc. Diane is a former columnist for the Boston Business Journal and currently publishes her insights on LinkedIn. She has appeared on NBC Nightly News, in The Wall Street Journal, San Francisco Chronicle, and The Boston Globe. She is a member of the Enterprise Center's CEO Group. Her clients include 20th Century Fox, Cisco Systems, Genzyme, Harvard Business School, and the American Bar Association, among others. She was even the commencement speaker at MIT's Charm School (yes, that really exists). For more information about Diane Darling, visit: www.darlinginstitute.com..
The North Shore Business Forum
The North Shore Business Forum, Inc (NSBF) is a group of small business owners from Boston's North Shore who meet for informal lectures given by business leaders on a wide variety of topics. Members are also invited to give their 30-second "elevator pitch." All business owners are welcome: future, past, profitable, experienced or beginning. The NSBF meets the 1st and 3rd Friday of the month from 7:30 to 8:30 a.m. (registration starts at 7:15) at Acapulco's, 900 Cummings Center, Beverly, MA. The $10 meeting fee includes networking, a featured presentation, and breakfast buffet.
No pre-registration required, but your RSVP on our Meetup page is appreciated.
**  WEATHER-RELATED CANCELLATIONS  **
If the Beverly, MA public school system announces a "no school" snow day on one of our scheduled Fridays, then the NSBF meeting for that day will be cancelled. Check the NSBF Facebook page for updates as well. (See our "About NSBF" page for more information.)