Home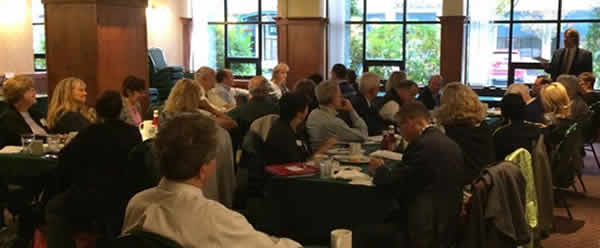 WELCOME to the North Shore Business Forum
Upcoming Programs 
SNOW DAY — Our meeting is cancelled today (2/5/16). We will reschedule our speaker, and see you in two weeks!
February 5, 2016
Learn How to Work a Room with Better Networking Skills at North Shore Business Forum's Meeting on Friday, February 5, 2016
The North Shore Business Forum meets on Friday, February 5 at Acapulcos, 900 Cummings Center, Beverly, MA. Registration begins at 7:15 AM, the meeting runs from 7:30 to 8:30. Admission is $10 at the door, and includes a buffet breakfast. Visit www.nsbforum.org for more information. Do you cringe at the thought of stepping into a room full of strangers at a party or business event? Are you frustrated at attending one networking event after another with little to no results for all your efforts? Would you like to be equipped with a plan, conversation points and some basic techniques so that you feel more comfortable in a crowd and learn how to convert contacts to clients? Featured speaker Charlene St. Jean, owner of Beverly, MA-based Purple Diamond LLC, will present "How to Work a Room—Networking 101," offering insights on the best way to make a memorable impression on people you meet and teaching you how to utilize your time at a business event more effectively.
About the Speaker: Charlene St. Jean is the owner of Purple Diamond LLC, a Beverly, MA-based advertising agency and marketing coaching company that coaches small to mid-size companies on affordable and effective ways to market and advertise their business. Before starting her own agency in March 2008, Charlene achieved senior account executive status selling television commercial campaigns in the Boston and New England market and received numerous awards for achievement in her field. Through her marketing business, Charlene has contributed significantly to the growth of over 100 companies on the North Shore. Her enthusiasm for the services she offers and her abilities to connect with other business owners at events have been instrumental in her company's success. From wearing her signature color purple to using simple techniques as she works a room, Charlene understands how to leave a lasting impression and coaches her clients to do the same!
For businesses that struggle with social media marketing, Charlene offers training, strategy sessions, and competitive packages for managing social channels. Charlene's company was nominated for Beverly's Small Business of the Year in 2012, and won the 2014 Greater Beverly Chamber Business Award for Sole Proprietor of the Year. Charlene currently serves on the Executive Board of Directors of the Greater Beverly Chamber of Commerce, was a past Board Member of the North Shore Business Forum, and a member of the Economic Community Development Committee for the City of Beverly. For more information, contact Charlene at Charlene@PurpleDiamondMarketing.com, or visit http://www.purplediamondmarketing.com.
The North Shore Business Forum, Inc. (NSBF) is a group of small business owners from Boston's North Shore who meet on the first and third Friday of each month for informal lectures given by business owners on a wide variety of topics. Members give a 30-second introduction of their business at each meeting. All business owners are welcome: future, past, profitable, experienced or beginning. Meetings are from 7:30 to 8:30 a.m. (registration starts at 7:15) at Acapulcos, 900 Cummings Center, Beverly, MA. The $10.00 admission fee includes a breakfast buffet. No pre-registration necessary.
Contact: Brett Kirkpatrick, NSBF President, 978-239-6335, Email: events@nsbforum.org.
The "Meeting After the Meeting" Returns!
The North Shore Business Forum is re-instituting the concept of having members share their expertise with other members on an informal basis, in brief, no-cost sessions after its Friday morning networking meetings.
If you are an NSBF member with an interest in offering your own "Meeting After the Meeting" session in the future, please see NSBF President Brett Kirkpatrick at one of our meetings, or email him at events@nsbforum.org .
**  WEATHER-RELATED CANCELLATIONS  **
If the Beverly, MA public school system announces a "no school" snow day on one of our scheduled Fridays, then the NSBF meeting for that day will be cancelled. Check the NSBF Facebook page for updates as well. (See our "About NSBF" page for more information.)